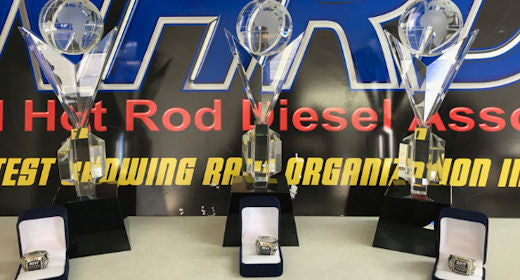 2017 NHRDA World Champions Crowned
by: David Janklow -
06 Oct 2017 Marysville, WA - The 2017 NHRDA World Finals closed out the 2017 NHRDA Season at the Texas Motorplex on September 29th & 30th. World records were shattered at the final event in the Hot Shot's Secret Diesel Drag Racing Series.
On Friday night, the truck and tractor pulls featured some of the best sled pulling of the year on the NHRDA tour and also some of the most carnage. In the 2.5 Diesel Class, Eric Whitmarsh made the trip down from Colorado to take the win. The Limited Pro Stock class presented by Valair Clutch saw Jesse Knight and the Hillbilly Bone Unleashed take home the win with a distance of 338.00 feet.
The Pro Stock class presented by South Bend Clutch was won by defending World Champion Jim Greenway with a pull of 370.09 feet. The Super Stock class saw Greenway pickup his second World Championship of the night but the class also saw the most carnage. Shawn Baca and the Master Shredder exploded a turbo and former World Champ Jason Stott's Addicted truck broke and was soon engulfed in flames. Mike Clifton picked up the win in the Semi Truck sled pull class with a pull of 290.11 feet.
Saturday the action switched to the drag strip with action in all the NHRDA classes from Top Diesel to Big Rig Bracket. The Top Diesel class saw a battle between 3 Top Diesel National Champions but at the end of the day it was Jared Jones who took home the World Championship. The Pro Stock Class presented by G & J Diesel saw Jarid Vollmer win another World Championship with the G & J Diesel/MBRP Team.
In Pro Street it was Dustin Jackson taking home the glory as he backed up a new Pro Street World Record in the final round. In the Super Street class presented by Industrial Injection it was a rematch of the 2016 World Finals but it was Phillip Franklin taking the win this year over Chris Buhidar.
Chris Perales repeated as the 10.90 Index World Champion after defeating William Ellington in the final round. The Super Diesel class presented by ARP was won by Josh Grahmann of Pasadena, Texas. The Sportsman winner was Robby Bowermaster of Abilene, Texas.
Gord Cooper came all the way down from Calgary, Alberta to defend his Hot Rod Semi World Championship and he did it style by going 11.67 at 115.50 mph in the final round to take the win. Rick Fenwick was the big winner in the Big Rig Bracket defeating Wes Wimmer in the final round.