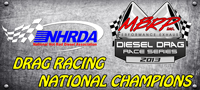 Drag Racing 2013 National Champions
by: David Janklow -
ENNIS, TX -- The NHRDA have crowned the 2013 MBRP Diesel Drag Racing Series National Champions at the NHRDA World Finals. Drivers collected points at all of the NHRDA events throughout the season and the drivers that had the most points at the end have been crowned the National Champions. Some of the drivers had already clinched the National Championship in their respective class prior to the World Finals but there were a couple of classes that came down to the last race of the season.
2013 MBRP Diesel Drag Racing Series National Champions:
TOP DIESEL: Jared Jones and the Scheid Diesel Dragster came into the World Finals with the points lead and knew that all he had to do was qualify and he would win his first ever National Championship. Jared did just that, as he rolled into the lanes for the Friday night sessions he knew that the National Championship was all his. But Jared and the Scheid Diesel Team wanted more they wanted their NHRDA Top Diesel Record back and they got it with two runs in eliminations they ran 6.64s and set a new NHRDA Top Diesel ET Record. But Jared was red in the final round and wasn't able to clinch the World Championship.