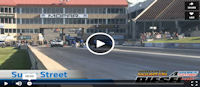 Epic Super Street Final Round At Diesels On The Mountain
by: David Janklow -
30 May 2015 Denver, CO - Thanks to Diesel TV we have video of the epic final round battle in Super Street between Rob Coddens and Derek Rose. Both had run under the national record during the event, both were looking for not only the win in the class, but to back up an earlier run to set the new record.
3Derek had run an amazing 9.41 to Coddens 9.47, but at the finish line it was Rob Coddens who took the win and ran quick enough to set the National Records in ET and MPH in Super Street at 9.478 at 152.37 mph.
It's going to be a great battle between these two competitors the rest of the year - check out the video of the final round.