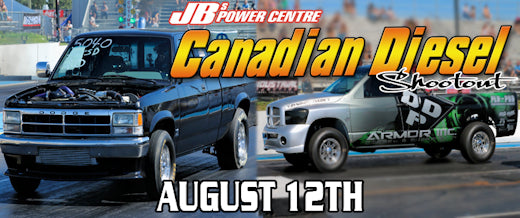 Great Diesel Action at JB's Power Centre Canadian Diesel Nationals in Edmonton
by: David Janklow -
16 Aug 2017 Marysville, WA - The 2017 NHRDA JB's Power Centre Canadian Diesel Shootout was a great day of diesel action for all the Canadian fans. The event featured the Hot Shot's Secret Diesel Drag Racing Series, a Dyno Competition presented by Flo-Pro, a Show n Shine, a vendor row and the Burnout Contest presented by NADP.
In the Top Diesel class, Dawna Kraus, picked up her second victory of the season and moved into the National Points lead. The Pro Stock class saw Kevin Douglas win his first trophy of the 2017 season.
Donavan Harris was the big winner in the Pro Street class as he defeated Ryan Phaff in the final round. The Super Street class presented by Industrial Injection saw a great match-up of Chris Buhidar (USA) vs Matt Bendoritis (Canada). Buhidar took the win and grabbed the points lead.
The 10.90 Index class saw a final round match-up of Matt Bendoritis vs Kelsie Epp with Bendoritis taking the win. The Super Diesel class presented by ARP saw a huge race between Mike Vallieres and Verlon Southwick. The Sportsman class presented by NAPC was a great race between Stephen Grundke and Chris Ruttan.
Once again Gord Cooper thrilled the fans with his loud and smokey burnouts! But it was also his one track performance that set him apart as he set another NHRDA MPH World Record at 119.17. The Big Rig Bracket class had Dave Stewart taking on Wes Wimmer in the final round.
The NHRDA will now head to Billings, Montana for the NHRDA Big Sky Truck Fest presented by G & J Diesel on August 25th & 26th.