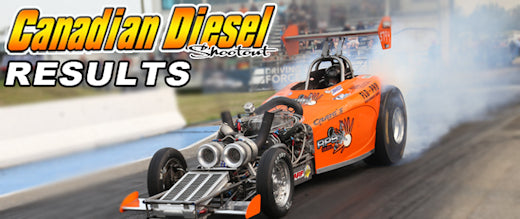 NHRDA Canadian Diesel Shootout Results
by: David Janklow -
14 Aug 2018 Marysville, WA - The NHRDA made their annual stop north of the border in Edmonton, Alberta this past weekend for the NHRDA Canadian Diesel Shootout. The event featured competitors from all over western Canada battling it out for the Hot Shot's Secret Diesel Drag Racing Series trophies.
In the Top Diesel class it was Richard Mead and his RPS Diesel Altered that got the victory with a run of 7.949 seconds at 173.28 mph in the final round.
The Mario High Performance Diesel Hot Rod Semi class saw Gord Cooper and the Smokin' Gun Kenworth defeat Mario Monette and his MHPD Peterbilt in the final round. Even though Monette lost the race he was able to set a New NHRDA Hot Rod Semi MPH World Record at 120.35 mph.
The G & J Diesel Pro Stock win went to Kevin Douglas as he defeated Richard Mead in the final round.
Ory Thingelstad picked up his first ever Summit Racing Pro Street win as he went 6.062 seconds at 119.30 mph in the final round.
Matt Bendoritis was a very busy man at the Canadian Diesel Shootout, he had two trucks running in three different classes. But Bendoritis stayed focused and won both the PPE Super Street class and the Premier Performance 10.90 Index class.
In the ARP Super Diesel class it was Brad Faryna taking his very first win when he defeated Dennis Kregel in the final.
The Flo-Pro Sportsman Diesel class saw Jordan Taylor defeat big hitter, Kendall Freed, for her first ever Hot Shot's Secret Diesel Drag Racing Series event win.
Wayne Talkington got the win in the Big Rig Bracket class driving Gord Cooper's Kenworth.
The Show N Shine winner was Troy Walker and his beautiful '96 Ford F-350. Matt Bendoritis got his third trophy of the day when he won the dyno competition with a pull of 1534 HP and 2249 Torque.
Nick Kregel put on a great show for the crowd as he was crowned the Burnout Contest winner.
The NHRDA now heads to Montana for the Big Sky Truck Fest presented by G & J Diesel at Yellowstone Drag Strip in Acton, Montana on August 24th & 25th.
Click here to purchase tickets