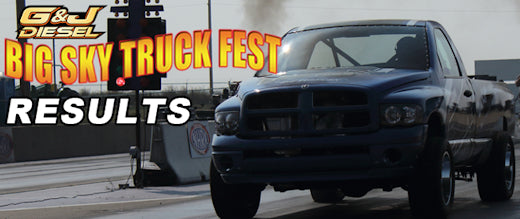 NHRDA G & J Diesel Big Sky Truck Fest Results
by: David Janklow -
29 Aug 2018 Marysville, WA - The NHRDA made their annual stop in Montana for the G & J Diesel Big Sky Truck Fest at Yellowstone Drag Strip this past weekend. Fans were treated to some great sled pulling action on Friday night and on Saturday they saw the Hot Shot's Secret Diesel Drag Racing Series hit the track.
On the sled pull track the fans saw, 2017 South Bend Clutch Pro Stock National Champion Tom Hansen, win both the South Bend Clutch Pro Stock and Super Stock classes under the lights.
In the Limited Pro Stock class, Tyler Behles took home his first win of the year. The 2.5 Diesel class win went to Kim Eaton-Roth.
Tim McKenzie and his daily driver got the win in the Work Stock class. The Pro Stock Gas 4X4 class was won by Andy Kober and his Never Enough Ford. Jason Oswald and his Irrational International tractor won the Light Limited Pro Stock Tractor class.
The Hot Shot's Secret Diesel Drag Racing Series hit the track Saturday under bright and sunny skies.
Top Diesel saw defending National Champion Dawna Kraus take home the win for her first victory of the year.
The G & J DIesel Pro Stock class was won by Jarid Vollmer as he defeated Kevin Douglas in the final round.
Chad Klocke took home wins in both the Summit Racing Pro Street class and the 10.90 Index class.
The PPE Super Street class victory went to Mark Rau and his FSR Diesel team making their 2018 NHRDA debut.
Scott McKinstry continued his domination of the ARP Super Diesel class as he won his fifth event of the year. The Sportsman class saw Justin Dall defeat defending World Champion Robby Bowermaster in the final round.
Mario Monette was able to get a little revenge in the Hot Rod Semi class as he defeated Gord Cooper in the final round. In the Big Rig Bracket class, Ron Clifton continued his march towards his first ever Hot Shot's Secret National Championship with another win.
The Dyno winner was Dustin Davis and 2004 Dodge with 1471 HP. The Pickup Show N Shine winner was Colton Landreth and the Bobtail Show N Shine winner was Scott Barnhart.
Don't miss the NHRDA World Finals coming up October 12th & 13th at the Texas Motorplex!
Click here to purchase World Finals Tickets!