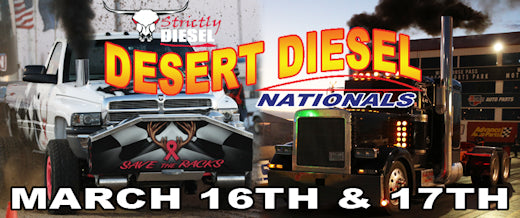 NHRDA Kicks Off 2018 Season
by: David Janklow -
22 Mar 2018 Marysville, WA - The NHRDA kicked off the 2018 NHRDA Season in style this past weekend at the Desert Diesel Nationals presented by Strictly Diesel. Competitors came from all over the US to the sunny Arizona desert for the first event in the 2018 Hot Shot's Secret Diesel Drag Racing Series and NHRDA Diesel Sled Pulling Series.
On Friday night the sled pulls saw Amalee Mueller kick off the weekend with another huge win in the Limited Pro Stock class presented by One Stop Truck Shop. She then turned her attention to the Pro Stock class presented by South Bend Clutch. Amalee dominated the class with her winning pull of 311.91 feet.
In Work Stock it was local guy, Don Bonesteel, got big win with his Big Booty Judy truck at 211.10 feet. Chris Taber and his Ragin' Bull got the win with a distance of 272.19 feet in the Pro Stock Tractor class. Clarence Correia and the Git R Done/Lucas Oil Multi Engine Tractor took home the trophy at 273.21 feet.
Saturday was the opening event of the Hot Shot's Secret Diesel Drag Racing Series with racers converging on Wild Horse Pass Motorsports Park for the Desert Diesel Nationals. The fans and racers were greeted with bright sunny skies all day and some great racing action.
Fans were treated to new World Records in both PPE Super Street and Copperhead Diesel Pro Street classes. Phillip Franklin, the defending NHRDA Super Street World Champion, took home not only the win but also the New Super Street 1/8th mile World Record at 5.872 seconds and 123.95 mph.
Jared Delekta and the Industrial Injection team have stepped up this season moving into the Pro Street class after setting the Super Street world on fire last season. Their first event of the year saw them take home the trophy and the 1/8th mile World Records at 5.465 seconds at 140.43 mph.
The Top Diesel winner was Zane Koch and his dragster. Amalee Mueller picked up where she left off Friday night when grabbed her third trophy of the weekend with a win in the 10.90 index class.
The ARP Super Diesel class saw, 3 time Sportsman Champion Scott McKinstry, got the win over Mikah Ruffino. In the KC Turbos Sportsman class, James Erwin won the event for the 2nd year in a row as he defeated Nathan Williams in the final round. Justin Clifton and his '96 Peterbilt made the long trip from Wayne, Oklahoma to take the win over the defending National Champion Wes Wimmer.
The NHRDA now heads to Sacramento Raceway for the Nor Cal Diesel Nationals on April 13th & 14th. Make sure you catch all the action live on Diesel TV.
Click here to buy event tickets!