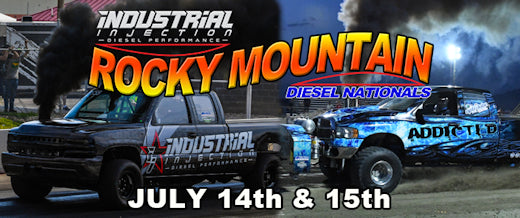 NHRDA Rocky Mountain Diesel Nationals Rolled in Salt Lake City
by: David Janklow -
20 July 2017 Marysville, WA - The NHRDA rolled into Salt Lake City for the first time ever on July 15th and 14th for the Rocky Mountain Diesel Nationals presented by Industrial Injection. The fans saw some great racing and sled pulling during the weekend's events.
On Friday night the Hot Shot's Secret Diesel Racing Series took to the track at Rocky Mountain Raceways. In the Top Diesel class, Dawna Kraus made her first appearance of the season. Jarid Vollmer made the trip for the Pro Stock class and Shawn Baca and his Master Shredder were on hand in the Pro Street class.
The Industrial Injection Super Street Shootout had some of the biggest names in the diesel industry converge in Utah for a shot at the big money. The qualifying list had all the big hitters on it, Jared Delekta, Randy Reyes, Phillip Franklin, Chris Buhidar, John Schirado, Logan Milam and Jon Jacobs. Some of the racers put up career best numbers on the scoreboards but there also was some major carnage in qualifying and eliminations.
On Saturday night, the NHRDA Diesel Sled Pulling Series and the United Truck and Tractor Pullers put on a great show at the Deseret Peak Complex. In the Super Stock class 3 time defending World Champion, Jason Stott competed in his first event of the season. Trevor Larkin was the winner in the Pro Stock class presented by South Bend Clutch. Limited Pro Stock saw Steve Durant grab his first victory of the season.
The NHRDA will now head north of the border to Edmonton, Alberta for the NHRDA JB's Power Centre Canadian Diesel Shootout on August 12th at Castrol Raceway.