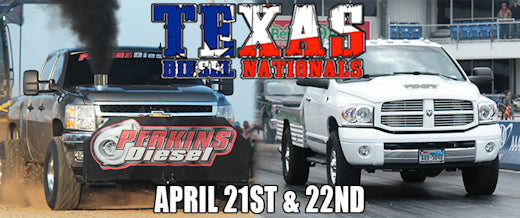 Record Breaking NHRDA Texas Diesel Nationals
by: David Janklow -
26 Apr 2017 Marysville, WA - The 2017 Texas Diesel Nationals was a record breaking event that started on the sled pull track on Friday night and ended under the lights on the drag strip at the on Saturday night. Competitors and fans came from all over Texas and the southwest for what turned out to be the biggest event so far this season.
The Friday night sled pulls put on a great show for the fans with some great pulling action. In the Limited Pro Stock Class presented by Valair Clutch, the top 3 pullers were only separated by 4 feet of each other with Chad Perkins taking the win. The 2WD Blown Pro Mod trucks put on a great show with their wheel standing blown trucks.
Saturday the Hot Shot's Secret Diesel Drag Racing Series hit the track for some of the best drag racing the NHRDA has had all season. But the combination of carnage and weather made for a very long day at the track with finals finishing under the lights. The fans saw Jarid "The Iron Man" Vollmer lay down a career best in the Pro Stock finals and watched Phillip Franklin pick up the $1000 Cash Bounty from Industrial Injection for the first Super Street driver to run an 8 second pass at a NHRDA event.
The Texas Diesel Nationals not only included Sled Pulling and Drag Racing but also the Show N Shine, the Burnout Contest and a huge Vendor Row!
The NHRDA will now head to Oklahoma for the Oklahoma Diesel Nationals on May 19th & 20th at Tulsa Raceway Park.