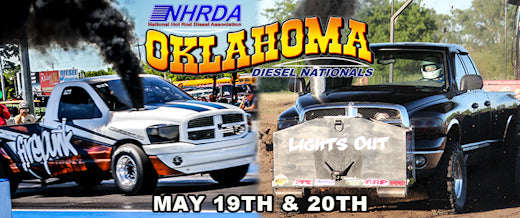 Records Shattered at the Oklahoma Diesel Nationals
by: David Janklow -
24 May 2017 Marysville, WA - The 2017 NHRDA Oklahoma Diesel Nationals was another fight with Mother Nature when severe thunderstorms rolled into the Tulsa area on Thursday night and didn't leave until early Saturday morning. But once the sun came out, the Tulsa Raceway Park staff had the track prepped and ready to break some world records.
In Pro Street both of the ET (8.421) and MPH (160.52) World Records were broken and shattered left and right. Dustin Jackson was the first driver in Pro Street qualifying and he laid down a 8.163 second run at 166.56 mph. Then right behind him Lavon Miller and his Firepunk Diesel team set the diesel world on fire with his earth shaking run of 7.993 seconds at 174.75 mph! Becoming the first Pro Street racer to ever run in the 7's.
In the Super Street class Phillip Franklin showed everyone that his 8 second performance at the Texas Diesel Nationals was no fluke. Franklin and his team ran a record setting 8.853 at 158.89 mph in qualifying and then ran another 8.853 in the semi-finals to set the the Super Street World Record!
The Sled Pulls were postponed to Saturday night due to the heavy rains on Friday and the crowd was in for a good show. In the Limited Pro Stock class the fans saw pullers come from all over to compete for the trophy and it was Jenna Lempka of Adams, Nebraska that took home her first ever NHRDA win and the trophy. Amalee Mueller added another trophy to her trophy case with her win in the Pro Stock class. The NK Pullers put on a great show as well in the 3LM Tractors, 4X4 Pro Stock Trucks, 2WD Modified and 8500lb Limited Pro/Super Farm Tractors.
The NHRDA will now head to Colorado for Diesels on the Mountain on June 10th at Bandimere Speedway in Morrison, Colorado.