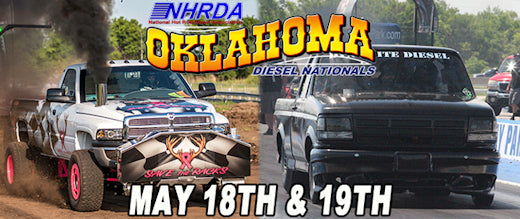 The NHRDA Rolls into Oklahoma
by: David Janklow -
23 May 2018 Marysville, WA - The NHRDA rolled into Tulsa for the Oklahoma Diesel Nationals at Tulsa Raceway Park this past weekend. The event saw competitors travel from all across the country to compete in the NHRDA Diesel Sled Pulling Series and Hot Shot's Secret Diesel Drag Racing Series.
Friday night saw the NHRDA Diesel Sled Pulling Series and NK Pullers put on a great show for the fans. Amalee Mueller and her Save the Racks entry won both the Limited Pro Stock class and the South Bend Clutch Pro Stock Class.
In the Hot Semi Truck class it was Lavern Zimmerman and his Kitty Cat entry that took home the trophy. David Klassen and his '08 Ford were the winners in the Work Stock class.
Saturday started out with sunny skies but a small thunder storm moved into the area and delayed the start of the event by about 90 mins. The drag racing action saw some of the biggest names in the diesel racing industry hit the track for the first time in racing competition.
Larson Miller and the Save the Racks S-10 were the big winners in the G & J Diesel Pro Stock class in their first race of the season and their first race with the brand new truck.
The Summit Racing Pro Street class had some of the biggest names in the industry (Lavon Miller, Dustin Jackson, Jared Delekta, Chris Buhidar and Phillip Franklin) on hand to battle it out for the win. After all the racing was done it was Dustin Jackson defeating Jared Delekta in the final round and setting New World Records for both ET (5.190) and MPH (144.50).
In the PPE Super Street class, Dallas Wade defeated Phillip Franklin to win his first ever Super Street trophy. Amalee Mueller finished her weekend on a high note with another trophy, taking home the win in the 10.90 Index class.
Josh Grahmann defeated Scott McKinstry in the final round of the ARP Super Diesel class giving McKinstry his first loss of the season. In the Big Rig Bracket is was Father vs Son, as Ron Clifton defeated his son Justin to take the win.
The Sportsman class saw a showdown between National Points leader James Erwin and former World Champion Larry Brown. Brown was red in the final round giving Erwin the win and extending his points lead.
The NHRDA now heads to Bandimere Speedway for Diesels on the Mountain on June 9th. Make sure you catch all the action live on Diesel TV.
Click here to purchase tickets for the Diesels On The Mountain