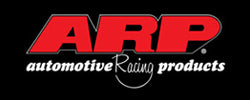 Automotive Racing Products
by: David Janklow -
ARP was the first company to design and engineer fasteners specifical for racing.
We developed many patented process for manufacturing high strength fasteners from very strong materials. We have continued to improve our processes and quality control and we are now our manufacturing operations are ISO 9001 and AS9100 registered. There's not another company in the world that is as focused on building superior quality fasteners for all forms of racing and non-racing applications as ARP.
Over the years, we have found, through experience, that the only way to maintain the quality we require is to keep everything in-house. From heading through machining, grinding, heat-treat, thread rolling, and shot-peening to black oxide treatment we perform every operation in house on our own equipment with our own employees.
Order Desk & Technical Support: 800.826.3045 or 805.339.2200
Visit us at:
www.ARPdiesel.com