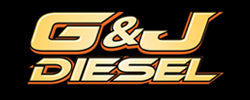 G&J Diesel
by: David Janklow -
For over 20 years G&J Diesel Performance Center has been serving Billings, Montana and the surrounding area. Specializing in the maintenance, service, power and performance of Ford Powerstroke, GM Duramax, and Dodge Cummins diesel trucks. G&J is an 8 bay full service and installation shop complete with a chassis dyno.
As both the Owner and builder of the world famous ìDirtymaxî G&J is no stranger to what it takes to run strong both on the track and off. As a direct distributor of much of the merchandise in our extensive product line, we are able to offer products and services at extremely competitive pricing.
So call us today, toll free, at 1-800-813-6366 and someone from G&Js knowledgeable staff will assist you with all your diesel automotive needs.
Visit us at:
www.GJDiesel.com