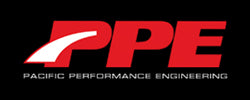 Pacific Performance Engineering
by: David Janklow -
For nearly 30 years PPE has been a leader in the diesel performance industry by providing high quality, reliable diesel performance parts and 50 states legal upgrades.
With parts available for Chevy, Dodge, and Ford -- PPE has what you need to tackle the stickiest drag strip, control the heaviest trailer or to just simply enjoy a problem-free commute in your diesel. PPE offers bumper-to-bumper upgrades including steering components, a massive list of engine upgrades, transmission upgrades, tuners, as well as differential and transmission pans, plus much more.
PPE's Dual Fueler CP3 Kits are the official Dual CP3 Kits of the NHRDA and feature top-level performance capabilities. They can be seen dominating at NHRDA events all across North America. The Dual Fueler CP3 Pump Kit ensures full-fuel delivery to the injectors by maintaining consistent fuel flow and fuel rail pressure as requested by the engines ECM, plus they're 50 states emissions legal.
Check out all the innovative products PPE has to offer at www.PPEdiesel.com for more information.
To speak with a technician direct, give us a call at (714) 985-4825
Visit us at:
www.PPEdiesel.com